THANK YOU IN ADVANCE FOR SUPPORTING OUR ORGANIZATION. The Florida Skunk Rescue, Inc. is a 501(c)(3) non-profit charity recognized by the IRS and Florida Department of Agriculture. Our mission is to rescue domestic skunks, foster them, and find new homes for them. We also do public education in the form of adoption events, schools, nursing homes, and kids camps for the Humane Society.   
A copy of our Official Registration and Financial Information may be obtained from the Florida Division of Consumer Services by calling toll-free 800-435-7352 within the State. Registration does not imply endorsement, approval or recommendation by the State. Registration CH3548.
EXPENSES: As with any non-profit rescue expenses are enormous!! As of 6/1/21 we have had two with large vet bills which combined was over $1,100.00.  One female skunk that was spayed had to keep returning to the vet to have her spay incision repaired because she kept chewing it open.  The vet finally had to fashion a pair of pants for her out of the sticky vet wrap tape and made it thick enough so she couldn't chew it off.  She is finally healed.  One male skunk sustained an injury to his tail which became infected and a portion of it had to be amputed.  He is well on the mend.  Besides the these unusual emergencies, we have the normal expenses of feeding, vaccinating, spaying/neutering, and worming the rescue skunks plus have to purchase supplies like paper towels, disinfecting solutions, etc. 
By donating you will be making a life saving impact on a skunk. Any consideration in donating to the skunks in need is greatly appreciated.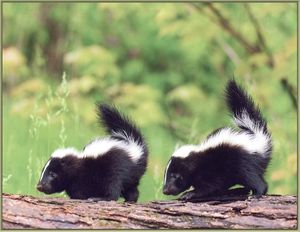 OTHER WAYS TO DONATE
PAYPAL: (A Paypal account not required to donate)(CLICK ON DONATE BELOW)
AMAZON SMILE (click on link below)
You can help defray our cost of caring for the rescued skunks until they are adopted by visiting our Amazon Wish List today!  Wish just a few clicks you can order supplies and have them shipped direct to our rescue, often with no shipping charge.  We have a Wish List of items listed below as well as on smile.amazon.com.
Now you can stretch your gift thanks to Amazon.com's great new giving program.  Amazon Smile is a simple and automatic way for you to support Florida Skunk Rescue every time you shop, at no cost to you.  When you shop at smile.amazon.com, you'll find the exact same low prices, vast selection and convenient shopping experience as Amazon.com, with the added bonus that Amazon will donate a portion of the purchase price to Florida Skunk Rescue!  
Have Questions About Donating?  Please contact us at 727-809-0975 or floridaskunkrescue@verizon.net
CASH/CHECK:  If you wish to donate by sending a check, please make the check payable to "Florida Skunk Rescue" and mail to:  12225 Litewood Dr, Hudson FL 34669-3715
WISH LIST OF SUPPLIES (MANY OF THESE ITEMS ARE ON OUR SHOPPING LIST ON AMAZON.COM OR CHEWY.COM:
Vegetables/fruit -  (cauliflower, broccoli, green or red cabbage, sugar snap peas, zucchini, blueberries)
Paper Towels
Chlorox Bleach Wipes                                                                                   
Dog Wee Wee Pads (Standard size, quilted)
Calcium Powder (Zoo Med) (Available on Amazon)                 
Rescue RTU One Step Cleaner and Deodorizer  (Amazon)
Freeze-Dried Meal Worms  (Amazon/Tractor Supply/Rural King)
Panacur horse paste dewormer (10% Fenbendazole paste) (comes in a tube) (Horse supply stores, Tractor Supply, Amazon, Rural King)
Strongid horse paste dewormer (Pyrantel pamoate) (comes in a tube) (Horse supply stores, Tractor Supply, Amazon, Rural King)
Glycoflex 3 Hip & Joint Support for Dogs (Pet stores or amazon)
Vetricyn Plus All Wound and Skin Care (Amazon or Tractor Supply)
Taurine Powder (Either Nature's Life or Bulk Supplements - both are available on Amazon)
Chlorhexidine 2% for Horses and Dogs (Amazon/Tractor Supply)
Spirulina Tablets (Sunlit Best ) (Amazon)
Baby Blankets - soft fuzzy ones
Cat cave beds or cubes (Any kind appreciated, Five Below has them for $5)
Cat litter boxes for corners
Whisper Pet Non-Toxic Odor Eliminator (Amazon or direct from company at www.whisperfresh.com/pet)
Pet Taxi's with front and top opening
Cold laser Machine